Picture ET. That's what this little tyke looked like when the Little Rock animal control officer found her and took her to the shelter. She was completely bald but for a few tufts of hair on the top of her head. Thanks to the great folks at University Animal Hospital in Little Rock who treated her for demodex mange and loved on her for almost three months she started to grow her hair back. None of the clinic staff or rescue folks involved could bear the thought of her returning to the shelter so Mosaic Rescue brought her to British Columbia to start a new life. Abby's foster mom knew she wouldn't be able to give her up once she was here so Abby is now an official Saturna Island resident. Scroll down to see pictures of Abby in her forever home where she is a cherished member of the family.
Week One
Abby's mom writes:
Abby is quite a lovely little being. When she arrived over a week ago she had a cold, but even so she was good-natured and responsive. I was amazed at her enthusiasm when we got home that night. She was delighted to play and jump around — it was lucky Sammy had left some of his toys here! She wouldn't settle down in the crate for sleeping though; it definitely made her very sad. So after 20 minutes or so of listening to her cry and moan to herself with the occasional yip, I made her a bed on the blue chair and she happily stayed there until morning. Now she has a spot on the couch and sleeps there.
She would love to sleep on my bed, which is not permitted. The last few nights, even though she seemed to be asleep when I turned off my light, she'd get up, come to my bedside and beg to get up. I take her back to her own bed, and then she repeats the process one more time. But last night, on her second try, she turned around and went back by herself when I said, "Abby, go to bed." She really is a sweetheart!
My friends are amazed that I have adopted a dog, but when they see little Abby they understand. She is smart, very loving and while she likes to please, she also likes me to please her! Our main problem is how to keep her warm enough until she acclimatizes and her hair grows back in. It has grown noticeably in just one week.
I love how willingly Abby takes her meds and responds to training. She is very smart, very loving and behaves well when I leave her alone. I'm very grateful to have this sweet being in my life!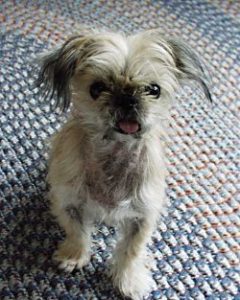 Abby's mom volunteers at the Saturna Island recycling centre and Abby goes with. She has a thermal kitty mat and lots of blankets in the blue box to keep her warm. Now this is the ultimate in recycling !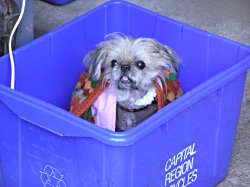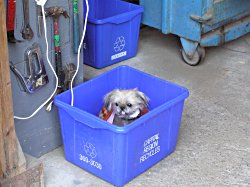 More additions to Abby's wardrobe.
Happy New Year 2007
Look at Abby now!!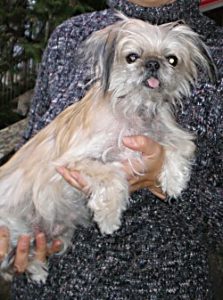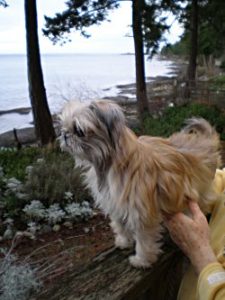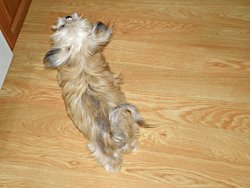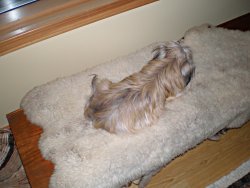 March 2007
Abby's hair continues to grow but we discovered that she still has demodex and a yeast infection so she's back on meds. Despite it all Abby continues to be a happy loving little dog who appreciates all the care and attention she gets from her devoted mom.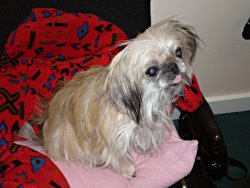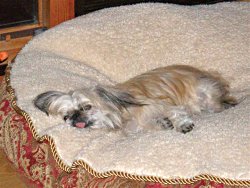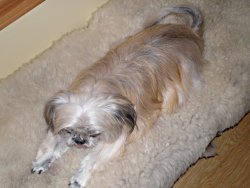 July 2007
Abby still has some bare patches but the hair she has had grown so much she needed grooming.
Abby passed away peacefully on July 20, 2010. She hadn't been well for a while and her mom made the decision that it was time to let her go. After a long ferry trip and drive they reached the vet clinic. As they were pulling into the parking lot Abby put her head down on her paws and breathed her last breath. She died as she lived, on her own terms. Farewell little one. I'm glad you had such a wonderful few years here. You touched many hearts and will always be remembered.