Riley
(formerly Red/Reddy)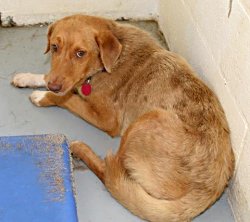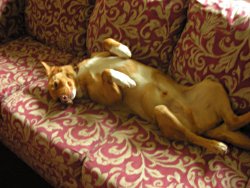 There are some dogs who just pull at your heartstrings and this boy is one of them. Kimberly certainly felt that tug and thanks to her kind sponsorship this gentle affectionate red dog could be pulled from the shelter where he had virtually no chance of being adopted. He had abscessed teeth, was heartworm positive and had a dislocated hip from an injury that was never treated. The teeth were pulled, he was treated for heartworm and he had surgery to repair his hip all the while being lovingly fostered by Carrie.
He then made the long trip from Arkansas to British Columbia and to his forever home in Victoria. They gave him the new name of Riley to reflect the life he is going to have as a cherished member of the family. He is one lucky dog to have so many people along the way who cared so much about him and judging from this picture he knows it!
Kimberly wrote: " I can still see him sitting in the shelter on row 2 with no idea what was going on or if he would ever get out of there. And now look at him! "
Thank you Kimberly for giving this wonderful dog the gift of life.